In this Master Class, I am teaching you EVERY SINGLE THING I know about using Lightroom to transform your images into WOW-worthy stuff. It's chock full of amazing tips and tricks, but still in easy to understand language.

Blogging is an extremely visual media and your blog success depends on high-quality content to draw readers to your site. If content is King, your photos are the Queen of your posts. And even though this course is aimed at bloggers, online content creators of ALL types can benefit from having excellent photography on their websites.
Even if you're new to blogging, you know that photo editing is a time consuming part of the blogging process. But it really doesn't have to be!
What if I told you I could teach you how to edit an entire batch of photos from start to finish in just minutes?
That is the power of Lightroom.
Join me for the Master Class to get all of my most advanced editing tips and tricks!

---
The Lazy Girl's Guide to Lightroom will teach you simple tips and tricks to make your photo editing workflow a breeze. Here are a few of the things you'll learn with this class:
Blown out window and door repair in just a few clicks
How to add a custom logo to your watermarks
Smart Ways to use the history feature
Clarity, Sharpness and Dehaze- What's the difference?
Publishing services- upload to facebook or flickr
How to save your photos the smart way
Edit an entire batch of photos with just a few clicks
Setting up a system: Get your photos organized
Watermark a batch of images automatically
Resize your pictures instantly
Straighten your images with one click
Create your own presets
Download or save your own presets for your most-used edits
Adjust uneven lighting or odd color casts on photos
Auto-white balance with a single click
Reduce the graininess (aka "noise") from pictures
Airbrush out unwanted parts of the photo
Create a crisp, white background for your product shots
Resize images to 300 dpi when the print magazines come calling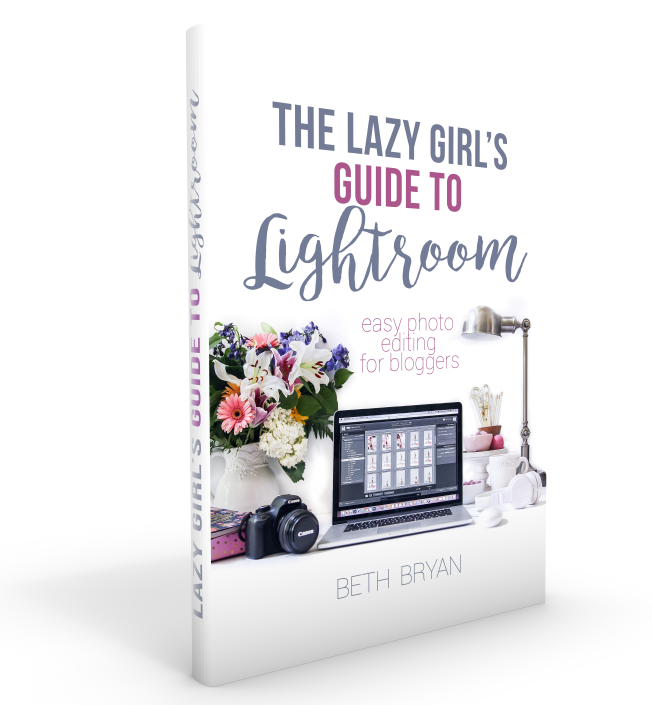 ---
Lightroom is such a game-changer for bloggers.
Many Lightroom tutorials are written for professional photographers with lots of technical jargon that doesn't necessarily apply to our type of online content creation.

The Lazy Girl's Guide to Lightroom is written specifically for time-crunched bloggers with your unique needs in mind. Each lecture is presented as a video screen-share so you can watch my edits on the screen as they happen. Feel free to pause, rewind and follow along to edit your own photos as I teach you the simple steps to outstanding blog photography.
With this class, you'll be off and running with quick solutions to your most frustrating questions.
But first, let me ask you a simple question...